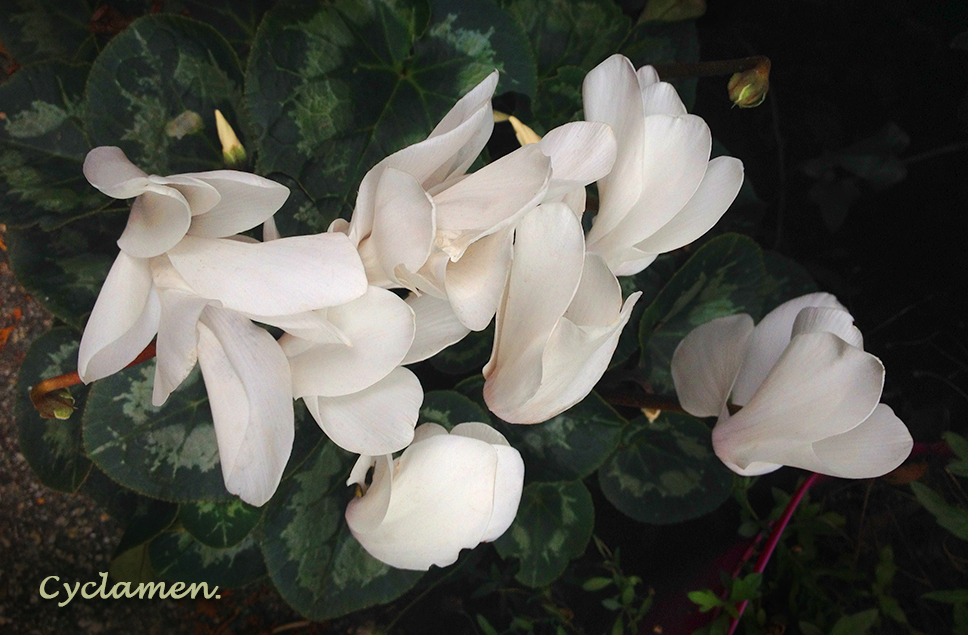 "To garden, you open your personal space to admit a few, a great many, or thousands of plants which exude charm, pleasure, beauty, oxygen, conversation, friendship, confidence, and other rewards should you succeed in meeting their basic needs. This is why people garden. It can be easy but challenging, and the rewards are priceless." – Tom Clothier
12/28/17:
It was great to have extra days off, a "long weekend" for the Christmas holiday. On Sunday, I watered everything, then pruned back the rosebushes, trimmed 8 inches off the top and front of the hedge along the bedroom window, and applied disease-preventing spray to leaves that were getting white mildew or black spots. My hands and feet got quite chilled while doing these tasks; I took breaks to warm up inside. I was out again on Tuesday, an even colder afternoon, but managed to spend a couple hours deadheading flowers and removing dried leaves and stems. There were crows quorking from the trees, and frogs croaking from the ivy groundcover as I worked out in the yard, while our cats wandered in and out of the house; a pleasant place to be despite the low temperatures.

We got the first frost on the 21st. Some plants were affected (withered/brown snapdragons and pepper leaves), others stayed green and are blooming. The bright colors of geraniums, begonias and daisies stand out particularly when they're some of the only flowers around, and the cyclamen and camellias coming into their bloom cycles during winter is always a welcome event. The Laser Pink, red and purple cyclamen seem to have died out over the year, however, so I just have white ones.
Clicking on the cropped images below will show the full image in a new window.
As I take inventory of plants still surviving in the garden, and am starting a list of 2017's successes and failures, I realized I have many pots filled only with soil, or perhaps just grass or weeds (although 4 or 5 of these may contain dormant bulbs). I've started to dump the soil, especially from small plastic pots, into large containers for now, stacking the empty ones, as I vow once more to focus on perennials when planting ornamentals this spring.

As far as edible plants, the last tomato has just ripened. I'd picked it and dug up the remains of the plant a week ago, placing the tomato on the windowsill to slowly turn red. It's a Cherokee Purple; not sure yet if I will try this variety again next year, but I've saved seeds. The cayenne peppers certainly did well this summer and fall. Two plants still have ripening peppers on them, even though some leaves were affected by frost. My herbs such as sage, oregano and rosemary are reliably around throughout the year. I may plant more lettuces in the next few weeks, I've had success with growing those in January before.