Ghetto Gardening 2015
Most of the space around our house is taken up by large hedges, paved areas, and a tiny lawn, so I get my gardening fix by cultivating ornamental and edible plants in a variety of pots and boxes. I call my low-budget, small-scale attempts at this "ghetto gardening."
It's an ongoing experiment: what can I get to grow in my container garden? What new methods and strategies should I try?
12/23/15: Happy Holidays!
This is the last entry for the year. I'm considering a new name for the series in 2016: "GreenWise Gardening", perhaps? I'd like to continue telling the story of the successes, frustrations and discoveries in my own garden. But I might focus to a greater degree on sharing useful ideas that others could employ, such as inexpensive and recycle-friendly resources or craft projects.

One document I'm putting together, primarily for my own use, is a spreadsheet of what I've learned about the plants in 2015's container garden. Through trial and error, and continuous research (online, books, magazines) I now know much more regarding soil, shade vs. sunny areas, fertilization, watering, and so forth. Next spring and summer should be just as full of enlightenment. I'm especially looking forward to experimenting with planting root vegetables.
Clicking on the small images below will bring up a full-size version.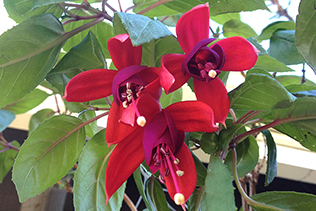 Fuchsia in a hanging planter.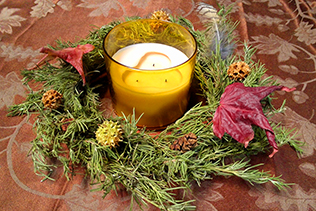 Rosemary wreath.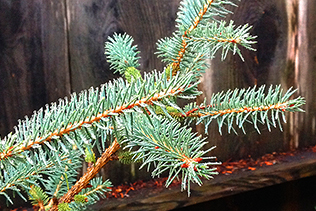 Raindrops on 2013's tree.
Temperatures have been in the 50s to 60s most days, and it's dropped into the 30s on some nights recently. The windshield of my car was icy one morning, but fortunately the frost has only affected three of the frailer plants so far. I'm not going outside barefoot for long anymore, and am geared up in long-sleeved flannels and yoga pants instead of t-shirts and shorts for my weekend gardening outfit.

In the past, I'd not paid much attention to my yard during winter. Some years I downright neglected it, since the rain watered everything for me and we had few guests so I wasn't concerned about the place looking messy. The spinach and chard would go to seed, the pavement would grow moss, and there'd be pots full of water-logged soil with some dead branches of a former plant sticking out of the middle.

Christmas always sneaks up on me. I tend to spend late November writing a letter to my Dad for his birthday, and am usually busy at my job, working overtime during winter for the past 8 years. Before I know it, the month's half over and I haven't bought gifts or decorated the house. But my workload's easier now since I'm not designing a product catalog for 2016, so I can devote time and creative energy to hobbies such as gardening for the first holiday season in a while.

These days I've kept on top of removing plants that have died out, and I'm tidying up after every rain. I continue to provide fertilizer to the flowers and herbs. The fuchsias in hanging planters are doing especially well. They get the best of the sunlight and are watered by rain draining from the gutters above the pots. The basil and cilantro seedlings are coming along, but taking their time due to the shorter periods of sunlight and cooler temperatures. I haven't planted anything new in December. One of the gardening magazines suggests adding winter color with ornamental kale, so I'll try that and some other lettucey plants before long.

While indoors, I've assembled wreaths from the rosemary branches I cut a few weeks ago. I've mostly used a selection of found objects to decorate: red maple leaves that blew into our yard during a storm, a pretty feather, little pinecones and spiky seedpods. I also have tons of beads and ribbons left over from past projects, so added a bit of these trimmings to a larger wreath and have started to display the cards we've received on the wall underneath it.

In 2013 I bought a living pine (or maybe it's a Douglas fir) in a large pot instead of a cut tree. If we decide to do the Christmas tree thing this time around, I'll bring it inside and clean it up. But a large chunk of the branches in one area has lost all the needles, so I might just leave it outdoors for another year.