Exploring Hawaii's Big Island
Volcanic craters, rainforest waterfalls, bizarre wildlife, awesome snorkeling, and sunsets above the clouds.
In May of 2010, Steve and I went on vacation to Hawaii for five days. Neither of us had traveled outside of the continental U.S. before, other than brief visits to Mexico and Canada when much younger.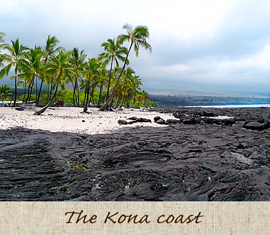 I wanted to go to a slightly exotic location where the water was warm, English was spoken and no passport was required. The Big Island of Hawaii seemed to have the best package deals for airfare, hotel and rental car compared to other islands, and Steve's research gave us many great ideas for a full week of activities.
And So it Begins: Arrival in Paradise
Immediately upon landing at the Kona airport, there was the sense of being in a very different place. The landscape is mostly large chunks of black lava rock, with an odd mixture of scraggly desert-variety plants and flowering tropical foliage.

Most of the buildings are open to the air -– minimal walls, and windows without glass. (Which I later learned is typical in the less-rainy areas of the islands during the warmer months.) It was about 90° out(/in?) and high humidity. We picked up the rental car, a white Ford Mustang convertible, and cruised south along the western coast of the island. The scenery went through at least 3 climate zones during our drive -– from lava rock desert, to pastureland, to rainforest.

We saw the first of many Myna birds, which are nearly as common as pigeons in Hawaii. I've heard that Mynas are bright, and can even be taught to speak like parrots, but they do tend to stand around in the middle of the road acting confused.

There are also Small Indian mongooses (-geese?) which are reddish-brown like foxes and squirrels, vaguely weasel-shaped, with red eyes. They slink along the ground much differently than the scamper of squirrels or the hop of ferrets. At first, not sure what sort of odd critter we were seeing running around the countryside (and later spotted in landscaped areas of the cities as well) I called them "squeazels" until curiosity compelled me to look them up on the internet. The mongoose is very shy, and tends to run away from my camera, so unfortunately I have no images to share here.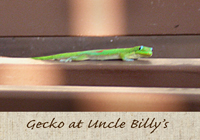 We stayed in the town of Kailua-Kona, which is right in the middle of the western coast of the island, at a hotel called Uncle Billy's. It was a relatively inexpensive, oldish, yet charming place with a little balcony-deck (lanai, in Hawaiian) connected to each room. The landscaping is pretty with hibiscus flowers and ferns; the buildings and rooms are somewhat worn but kept decently clean. There's a small swimming pool near an outdoor patio, where free continental breakfast (toast, muffins, coffee, tropical fruit juice, fresh mangoes) is served buffet-style. The view from our room was pretty nice, from some angles we could see the ocean in the distance and palm trees and the pool in the foreground. Cute little green geckos (quite similar to Geico's spokeslizard) seemed to like hanging out on our balcony railing, and got inside the room at times.

One of our first stops before settling in and unpacking was at a local grocery store, where we picked up a small styrofoam cooler to fill with beverages and picnic food. Prices for many ordinary things are a bit steep in Hawaii. $12 for sunscreen, $5 for a package of 8 slices of cheese, $10 for a six-pack of Mike's Hard Lemonade. The local equivalent of the Safeway card is the Maika'i card, which saves you a little.

Steve drives, and I navigate. Map-reading is not one of my strengths. But I sorted through all the brightly colored paper coupons, flyers and brochures from the airport and the car rental place to find a decent map of the town, and discovered a used bookstore nearby. It turned out to be a great find, with aisle upon aisle of out-of-print paperbacks. I picked up 3 books by favorite authors, one of which I'd been trying to find for probably 5 years.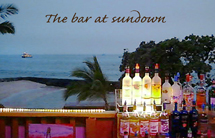 We grabbed a quick lunch at Carl's Jr., and stopped by Boss Frog's snorkel gear to rent our masks and flippers for the week. The salesguy gave us a map of popular beaches to visit. I took notes on how to get to the ones best for beginner snorkelers and for seeing sea turtles.

Later that afternoon, we explored the shops along Alii Drive, near the hotel. The atmosphere of Kailua-Kona is touristy in a relaxed, beachy way; not unlike many coastal towns in California. There's brightly colored Aloha shirts, sundresses and swimsuits hanging at almost every shopfront. We browsed selections of postcards, jewelry, ukeleles, pottery and glasswork, candy, Kona coffee, beach toys, tiki carvings, seashell sculptures… The little ABC general stores are a good place to pick up essentials from shampoo to sunglasses. Steve bought 2 t-shirts there and we both got beach towels.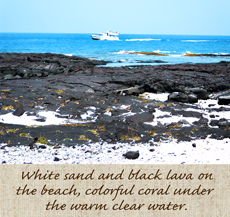 The restaurants and bars are often open-air designs; we stopped at one that first evening which became a favorite during our stay. Nothing more relaxingly tropical than looking out over the ocean at sunset, enjoying a rum drink, as a warm breeze blows in from behind the bar to ruffle my hair.
The Turquoise Sea
A time-zone change of 3 hours and a 5-hour plane flight gets my sense of time and sleeping patterns off kilter. But I think we got an early start the next day. I was so eager to try snorkeling, and experience swimming in 70° water. We tried Spencer Beach, Koa Bay, Kahalu'u Beach, and the beach near Pu'uhonua O Honaunau National Park over our 5-day stay. The beach by the park was my favorite.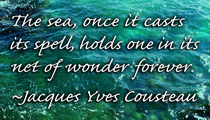 Growing up in the Nevada desert, finding water deep enough to swim in was difficult. Tahoe's beautiful but usually freezing. At the Pacific Ocean along the California coast, I'm far more likely to dance in and out of the edge of the surf until my feet go numb than to fully submerge myself in the 50° water. All my life I've wanted to be in a warm ocean, and this was my chance.

What I noticed first was the remarkable clarity of the water. Pure liquid turquoise, the coral reefs below the surface are discernible from the shore. Once I got the hang of wearing flippers, mask and snorkel, concentrating on breathing through my mouth and ignoring the urge to take a deep breath through my nostrils, being in the water was delightful. I guess it's the high saline content that makes staying afloat so easy, and not being a strong swimmer wasn't an issue. The fish are everywhere. And so many different colors, patterns, shapes and sizes! Part of me felt like I was living inside a Cousteau documentary. Part of me wanted to grab one of the fat juicy-looking ones and have some sushi.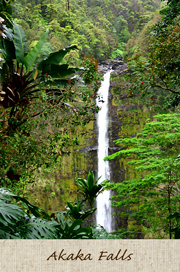 The coral formations are lovely as well. Like sculpture based on day-glo cauliflower, stalagmites and mushroom slices.

I saw three leatherback turtles during our snorkeling excursions. Their big dark eyes gaze solemnly at the coral cities below, as languidly and gracefully they glide through the undersea landscape. I can't help trying to follow them for a ways. I keep wanting an underwater camera/mask.

When taking a break from being in the water, I indulged in one of my very favorite "activities," basking. Steve and I set up our beach towels, got a drink and snack from the cooler, and relaxed while enjoying the landscape, breeze and sunshine. It was truly idyllic.
The Hilo Side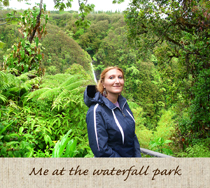 (The next few days blur together a bit in my memory, perhaps typical of life without a work schedule, meetings or deadlines. Dates on the photos Steve and I took are helping to arrange this account in a roughly chronological format.)

Our next day's adventure was a trip to the eastern side of the island, to hike near waterfalls, visit a candy factory and see a gorgeous botanical garden preserve. The "Hilo side" is more verdant and rainy; I was glad to have packed my hooded sailing windbreaker. Although it was too warm at times, I do like to keep water from falling on my head.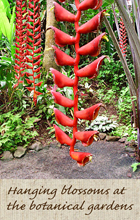 At Akaka Falls State Park, we maneuvered along concrete paths among many other tourists to get the best views of 400 foot waterfalls. The silver whiteness of the water, exploding down the cliffs covered with lush vegetation into a teal-blue lake, is dramatic to see. The rushing water sounds like subdued thunder.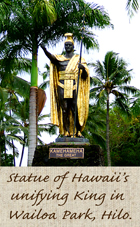 A co-worker of Steve's recommended that we visit the Big Island Candy Company in Hilo, where they have displays of a great assortment of flavor combinations and gift-packaging themes for cookies, chocolates, toffee, and brownies to purchase: many with a plate of free sample bites to taste. My favorite was the milk chocolate and carmel-dipped shortbread.

The buildings we drove past in the town of Hilo have more of a historical, old-west frontier feel than Kailua-Kona. The weather is quite fickle -- sunshine, rain, or both at once. We put the top up on the convertible, and back down again, about 5 times that day. Little old churches are ubiquitous and we came upon them in out-of-the-way spots all over Hawaii.

About 8 miles north of Hilo, we followed winding roads through the rainforest to Hawaii Tropical Botanical Garden. Admission is $15 a person but it was worth it. Exotic plants, many of which were in full bloom,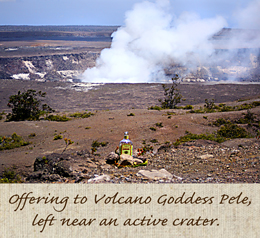 are beautifully arranged to be seen and photographed from the walking trails. Towering palm trees sway overhead, rain splashes down intermittently. A three-tiered waterfall, pools with fish and ducks, parrots, and scenic overlooks for a view of ocean waves crashing upon black craggy peninsulas were additional delightful discoveries as we meandered through the jungle.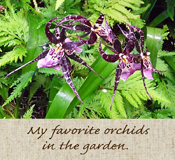 Volcano Wine and Adventures in the Lavascape
A day spent on the southern tip of the island started with a visit to Volcano Winery. The tasting room is right on the way to Hawaii Volcanoes National Park, and offers free sample pours of 6 or 7 different wines. Most are based on the "Symphony" white grape and some are blended with odd but tasty things such as island fruits, macadamia nuts, black tea and honey; these range from dry and light-bodied to silky-sweet dessert wine. Volcano Red is made from California grapes blended with local berries. We bought a couple bottles of the red and one of the medium-bodied whites that had an appealing citrus-apricot flavor.

The volcano park has much more to see, learn about and hike through than can be experienced in one afternoon.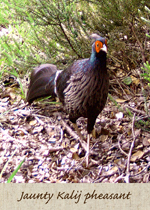 We chose to stop first at a few of the semi-hardened lava craters, which belch steamy sulphurous clouds up into the air. The intense heat is noticeable just standing near the edge.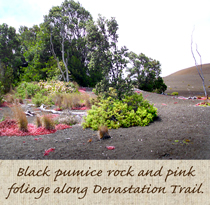 Some of the more-dormant lava fields have trails where you can travel for miles across the bottom of a crater. We opted instead for a shorter hike that included a path through a lava tube, which is a prehistoric-looking black cave tunnel created long ago by magma flowing underground and melting holes through weaknesses in the rock. Then we walked Devastation Trail, to see the great variety of volcano-caused landscape features.

We also took one of the nature walks where rare and colorful birds can be spotted. Most of them were too far overhead in the trees to see well, but it was a nice warm day to be outside in a variety of deciduous forest and bleak deserty terrain interspersed with seemingly alien foliage. We did find 4 or 5 Kalij pheasants, which are apparently used to park visitors enough to beg for a snack. I fed them some of my turkey sandwich.
On Top of the World
Mauna Kea is a long-dormant volcano with an elevation of 14,000 feet. It's located in the center of the top part of the island. Locals recommended that we try to get there just before sunset for the most spectacular view of the surrounding terrain and the distant coast from a height above the clouds. We followed groups of tourists in vans for a long drive up a dusty, bumpy, winding gravel road. Observatories with huge, high-powered telescopes occupy the summit. These open up to the sky as the sun goes down. The public isn't allowed inside the structures, we tourists stood out on the rocky mountaintop and gazed at the breathtaking cloudscape until we were shivering too much to hold our cameras. Steve is more immune to low temperatures than me. I hopped back in the vehicle after about 3 minutes while he took pictures until after sundown.

This was the only point in the entire vacation that I was noticeably cold, it seems that most of the Big Island in May has comfortably warm temperatures day and night. I wore t-shirts or sleeveless blouses, with shorts or a miniskirt over my bikini almost every day, and didn't regret not packing a sweater.
Kicking Back in Kailua-Kona
After a day's adventures, we often walked down to the bar. To order Mai Tais and Blue Hawaiians, to have a cocktail arrive with a slice of pineapple garnish and an umbrella always adds to the fun, but in Hawaii it also feels completely natural and expected. My go-to drink is a rum and diet coke. I tried a few varieties of rum on this vacation that were new to me. The local stuff, Hana Bay, was decent but tastes faintly of nail polish remover. Kraken Rum (which I've since found at local watering holes as well) has a caramel-dark flavor which balances a high alcohol content nicely.



At times there was karaoke, or the bartender's rock music playlists adding to the laid-back, welcoming atmosphere inside the bar. (Sublime is very popular in Hawaii.) I was hit on by a friendly local guy, he was good natured about my lack of interest and struck up a conversation with Steve about how he was making a great living at being a fresh seafood distributor. We all had some fish tacos. Ono (the name means 'delicious' in Hawaiian) is a meaty, flaky and sweet local fish.

On one occasion we splurged on a nice dinner at the Fish Hopper. Mahi-mahi, opakapaka, swordfish and seabass are yet more tasty locally-caught fishes. We also discovered L&L Barbecue, which is the Mecca of cheap Hawaiian take-out food. Kalua roast pork (with the standard side dishes of one scoop of macaroni salad and one of sticky white rice) was salty and satisfying; the teriyaki chicken skewers and shrimp plates are good also.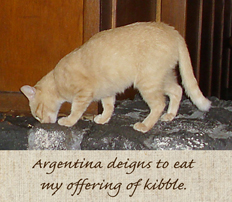 Across the street from our hotel was an upscale restaurant, with a large manicured lawn right along the seawall. We went for walks in this area and I met a couple of feral cats. The first time I saw these little half-grown tabbies lurking in the shrubbery, I said, "Let's come back by here with cat food and I'll coax them out." So I left a bit of kibble out on a paper plate one evening. It was gone the next day, and when I saw the shy felines around again, I held a bit of food in my hand and tried to get them to come and say hi. Eventually giving up, we were heading back along the side of the restaurant when I saw the orange cat nonchalantly begging for fish scraps on the counter by the cash register. A waitress told me his name was Argentina and confirmed that he and the gray tabby female (Sketch) were well-fed, fixed, and quite spoiled customers.

The Hawaiian language has only 12 letters, but you can still spell meow.
Wrapping Up the Memories
A few drawbacks to the overall awesomeness of the vacation are apparent by the fourth or fifth day. 1. This is getting expensive. 2. My back, legs and butt are sunburnt a bright red, and the hotel bed is so welcome after a long day of adventures but it's mildly painful to lie down.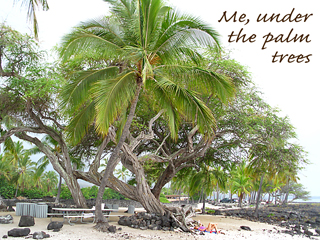 (Must apply sunscreen more liberally before spending the day hovering on the surface of the water under the bright sun.) 3. A 5-day vacation is too short. So much still to visit and explore; yet I could easily spend an entire week just snorkeling and lying on the beach.

I recall spending one last day in the water before packing up and heading to the airport. It was all too soon that I was putting on a long-sleeved shirt and jeans once more for the journey back to real life and then cramming all our souvenirs and purchases in the luggage. I got a necklace of coconut shell beads with a turtle-shaped wooden pendant, made by a beachside vendor. There's the shortbread cookies, a bag of coffee, 3 bottles of wine, 2 beach towels, 2 Kona t-shirts. And of course we took over 300 pictures.

Not long after returning home, we started daydreaming about which island to try next year.