Vegetable and Cheese Oven Omelet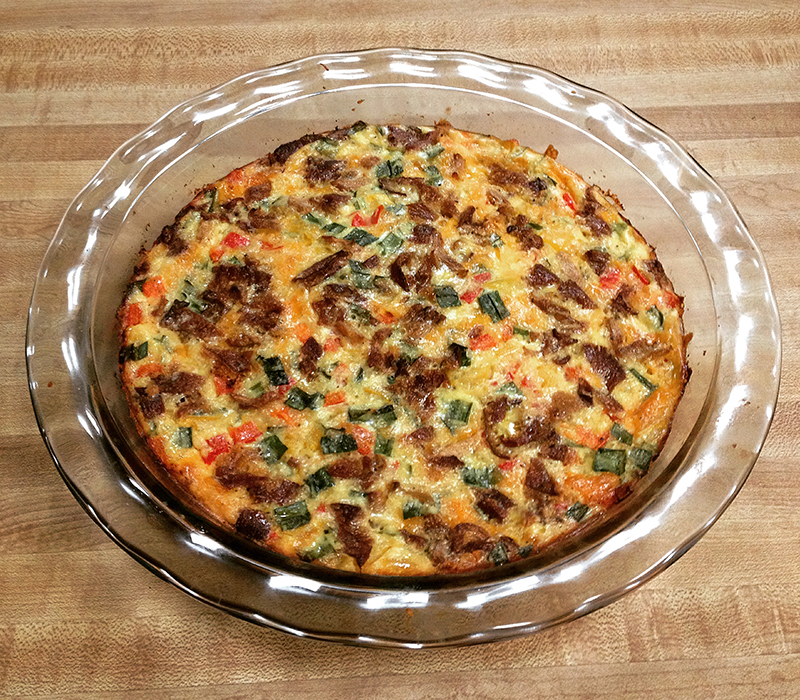 Ingredients:
2 cups grated cheddar cheese
2/3 cup grated parmesan cheese
1 cup (2 to 3 ounces) chopped oyster mushrooms
1 red bell pepper, diced, or 1/2 red and 1/2 yellow or green bell pepper
2/3 cup wild leeks (or scallions), chopped
1 cup milk
3 tablespoons flour
3 eggs
1/2 tsp. salt
1 tsp. pepper
Dash of lemon juice
Instructions:
1. Toss chopped vegetables together with cheese and dash of lemon. Pour into greased baking dish or pie tin (a 9 to 10-inch diameter glass dish works well).
2. Beat eggs, milk, flour, salt and pepper together. Pour evenly over cheese/vegetable mixture.
3. Bake uncovered at 350 degrees for about 40 minutes, until the center is set and the top is golden brown.
4. Let sit for 10-15 minutes before cutting and serving.
Other options: Portabella mushrooms and other flavorful varieties work just as well as oyster mushrooms in this dish, as do other cheeses such as swiss. Diced white, yellow or red onion can be substituted for the leeks/scallions. This omelet is a satisfying breakfast or brunch when topped with sour cream and served alongside fried potatoes and bacon.