Blackberry Parfait Tiramisu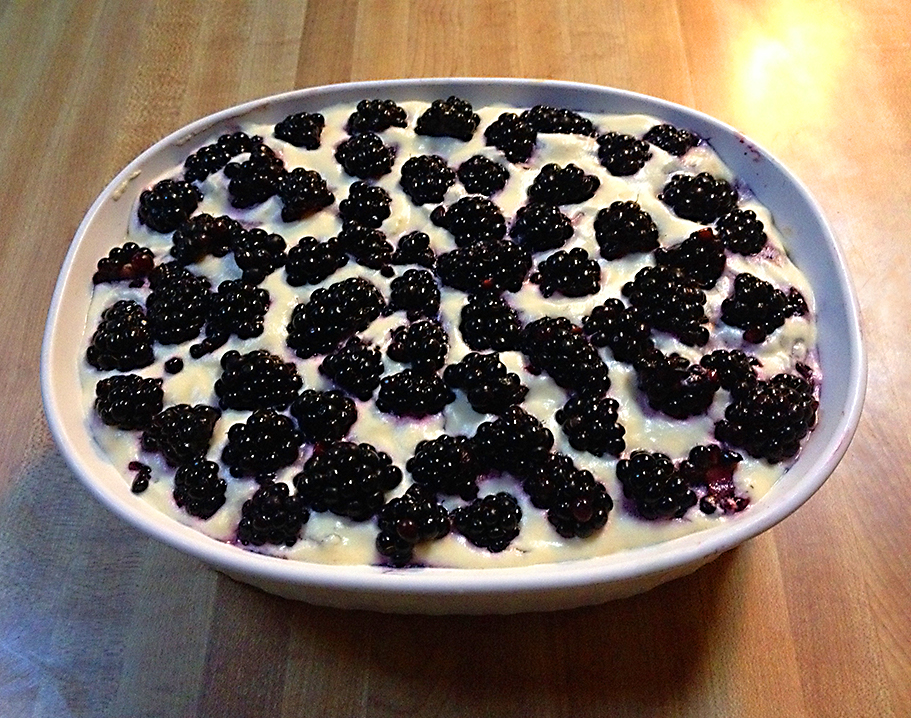 Ingredients:
3 large eggs
1/2 cup sugar
2 Tbsp. brandy
8 oz. (1 small container) mascarpone cheese
1 package of ladyfinger cookies (20-24 of the crisp variety)
2 cups cold coffee
12 to 16 oz. fresh blackberries, cut in half if large
Needed:
A serving dish at least 3 inches deep and 9 inches in diameter
Two medium-sized mixing bowls
A shallow bowl for the coffee
Electric mixer
Instructions:
Separate egg yolks and whites into two mixing bowls. Sprinkle a teaspoon of sugar into the egg white bowl and set aside. Add the rest of the sugar and brandy to the egg yolks. Beat together until combined well. Then add the mascarpone to the egg yolk mixture and cream together until it is smooth and custard-like.
Beat the egg whites with the mixer until stiff peaks form. Then fold the whites into the mixture in the first bowl. Combine carefully, so that the blended ingredients remain fluffy: the texture should be like a whipped cream topping.
Lightly dip both sides of a cookie in the coffee, and immediately place it flat on the bottom of the dish. Repeat for 10 or so more cookies, until you have a layer across the bottom of the dish.
Spoon some of the cream topping over the cookie layer and spread it to about 1/2 inch thick. Place half of the berries on top of the cream, then spread more cream on top of the berries.
Place another layer of coffee-soaked cookies, then cream at about an inch thick, then top with berries. Depending on the size of the dish, you may have enough cookies, cream and berries left to make yet another layer, or even to create a mini-tiramisu in a bowl or other small container if the first dish is full to the top.
Cover the dish(es) and refrigerate for a few hours before serving.
Tiramisu is a lovely non-heavy summer dessert, or even breakfast. Serve with coffee.
Options: Various berries, cherries or other soft fresh fruit can be used. With fruit that is not as juicy or sweet as berries, a bit of jam or syrup can be added. In place of brandy, amaretto or chambord liqueur complements berries well. The soft variety of ladyfingers can also work: dip only one side of each cookie in the coffee, very quickly so they don't get entirely soggy. A sprinkle of cocoa powder on each layer of cream is a classic tiramisu ingredient; cinnamon can also be used.